Welcome to NOMURA SHOJI Homepage
Since the establishment in December 1962, we have been consistently supplying testing and measuring instruments for pulp and paper as well as consumables such as carrier rope and others for paper production process.
Meanwhile we, as a trading company specialized in the pulp and paper industry, have devoted our resources to supply not only superior domestic and overseas products but also after-sales services and technical supports to the pulp and paper industry.
This way of our business has won broad confidence from many users.
Making good use of the experience, we developed a supersonic fiber orientation analyzer SST (Sonic Sheet Tester) for paper and film, the first model of which we started marketing in 1983. This instrument has made a great contribution to development of measurement of fiber orientation and related physical properties. In 1986 we were awarded the Sasaki Prize from Japan TAPPI for the achievement.
Taking the opportunity of production and sales of the SST as well as a Formation Tester FMT, we have extended our activities into the field of nonwovens and film sheets that have close resemblance to paper.
We are now challenging, in addition to supply of more high-quality products and services, to pursue how we can be of better service to rationalization and laborsaving in the field of test and measurement as well as for resource saving and new ecology in these industries.
Registration of important science and technology history data for orientation tester SST No.00151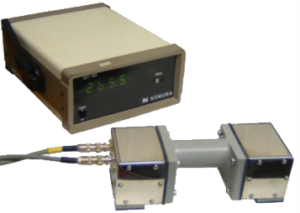 The initial model SST-110 (photo) of our orientation measuring instrument SST was registered as a historically important science and technology historical material by the National Science Museum.
SST continues to play an active role as a measuring instrument for paper and film orientation up to the current SST-4000 type.
About NOMURA SHOJI
Company Name
NOMURA SHOJI CO., LTD.
Address
3-15-2 Nihonbashi, Chuo-ku, Tokyo 103-0027 Japan
Phone No.+81-(0)3-3275-8001
Fax No.+81-(0)3-3275-8005
Representative Director
Tomoyoshi Nomura
Established
December 1962
Capital
¥10,000,000.
Banks
Mitsui Sumitomo Banking Corporation, Kyobashi Branch
Mizuho Bank Ltd., Ginza-Chuo Branch
MUFG Bank, Ltd., Nishiogikubo-ekimae Branch
MAP
On foot 10 minutes from the Tokyo station.The 10th floor of Kagoshima building.