Manufactuerd by NOMURA SHOJI
SST-4000 is a fiber/molecular orientation measuring equipment based on ultrasonic technique Since starting to sell in 1983, SST series has been turned over 400 or more sets in the paper and the film manufacture industry in the world and has obtained high evaluation as a measuring instrument of the quality control.
Fiber/Molecular Orientation affects the greatly curl, the twist, the size modification and the mechanical strength, and determines the quality of paper. This is an important factor.
SST-4000 makes it possible to manufacture the high quality paper and film.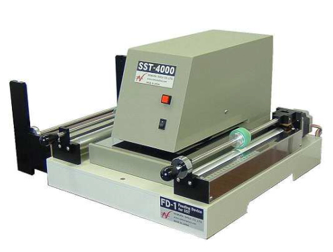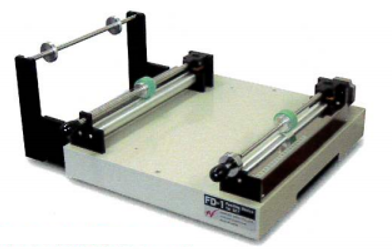 FEATURE
Orientation measurement of Tensile Stiffness (fiber/molecule)
Stable measurement technology with plenty of experience
* High robust measurement by ultrasonic
* Stable high precision measurement by ultrasonic
* High-speed measurement by multi- ultrasonic sensors
Fusion of a personal computer and a measuring instrument
* User-friendly man machine interface
* Visually screen display / report
* Facile data storage/ data processing
* Facile measurement data analysis by store-bought S/W (Excel etc.)
Automatic profile measurement of Long sample with a FD-1 Feeding Device (option )
Ease of maintenance
PRINCIPLE
Ultrasonic pulse transmits in a paper or film sheet of density "ρ "with speed "C" for a fixed length "L" in a certain time "T". Then Young's modulus "E" can be described by the following formula.



SST measures T in msec or C in Km/sec by 11.25 degree interval for 360 degree, calculates fiber (molecular) orientation/ cross-length ratio/ peak values (max and min)/ tensile stiffness index, and presents graphical and numerical results as below.
DATA EXAMPLE OUTPUT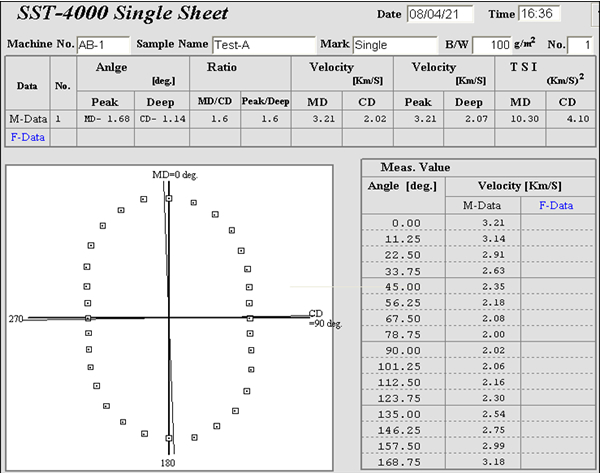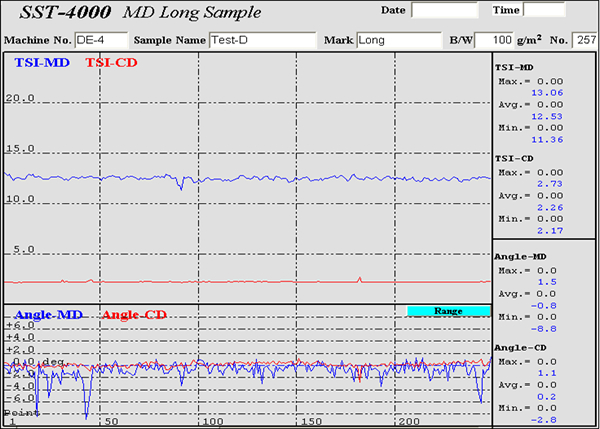 profile measurement result